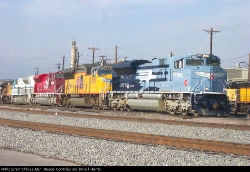 Welcome to the RRPictureArchives.NET contributor site of Bill Hemb.



Hey all! Welcome to my gallery. Havent added much in here lately, but will in the near future. I went on my very first railfanning vacation; to west Texas, New Mexico, Colorado and Utah last month and will pick out the best photos from each day and post them here. The Rio Grande 5371 was a true experience for sure as well as the UP 1989 and the spectacular "Rio Grande" scenery from the joint line all the way to solider Summit. i will try to make this album in its entirety soon, then do trips previous from there as many i have taken but not posted here all the way back to 2002! sorry again for the lack of photos, but more will come soon!

Bill Hemb

Misfit Rio Grande Railfan in central texas



You may browse my collection of pictures via the menu located on the left hand side of the page. I hope you enjoy the collection and thanks for stopping by!
Note: This site is best viewed in Internet Explorer 6.0 or above.
Select one of the links from the menu on the left to begin browsing the collection.